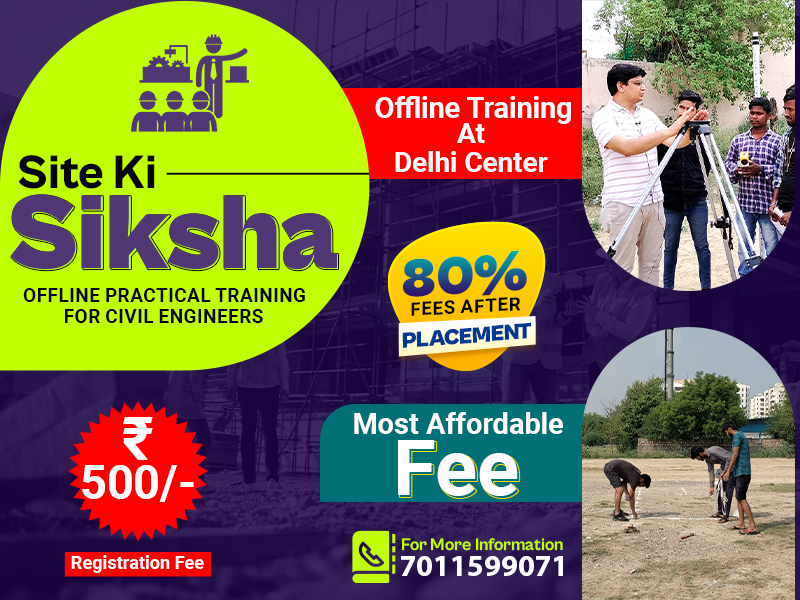 Offline Practical Training for Civil Engineers
Site Ki Shiksha (Offline Site Training for Civil Engineers)
Indian Construction industry is one of the most important sector and play a very important role in Indian Economy. Indian Construction industry contribute around 10% to the Indian GDP. Indian Construction Industry provides employability in our country after agriculture sector.
What is Offline Training for Civil Engineers
Offline site training for Civil Engineers is a type of training that takes place on an actual construction site rather than in a classroom or office setting. It provides hand-on experience for Civil Engineers to gain practical skills and knowledge about the construction process.
Here are some steps to consider when planning an offline site training as a Civil Engineers.
Identify the construction site where the training will take place. This should be a site that is currently under construction or will be soon.
Define the scope of the training. This include specific tasks that the engineers will learn how to perform, such as surveying, excavation or concrete pouring.
Determine the duration of the training. Depending on the scope of the training, it could last anywhere from a few days to several weeks.
Develop a training curriculum that covers the necessary topics and skills. This could include classroom lectures as well as hands on activities on the construction site.
Identify the trainers who will lead the training. These could be experienced civil engineers, construction manager or other professionals with relevant experience.
Provide the necessary equipment and materials for the training, such as surveying tools, safety gear and construction materials.
Ensure that all participants have the necessary certifications and permits to work on the construction site and provide any additional training certifications as needed.
Evaluate the effectiveness of the training and make adjustment as needed for future training sessions.
Overall offline Site Training for Civil Engineers can be a valuable way for Civil Engineers to gain practical experience and develop their skills in a real world setting.
Why Offline Training is Required for Civil Engineers
Only 10% of Civil Engineers graduates are employable. Jobs are available in market but the right candidates are not available. Because our education system is out dated and does not teach us relevant skills.
Solitude Education Offline Training Programs:
Solitude Education provides high quality offline training courses for Civil Engineers at very affordable price. Solitude Education is India's best Civil Engineers training institute in India provides live project experience to the Civil Engineers. To learn from basic to advance level Solitude Education is providing different course to transform the theoretical knowledge into practical knowledge.
Offline Training Offered:
6 Week Offline Training:
Surveying & Layout (Week 01)
Introduction to Survey
Auto Level Setup
RL Transfer by Height of Instrument Method
RL Transfer by Rise & Fall Method
Level Transfer
Centreline Layout
Township Layout
Estimation (Week 02 & 03)
Introduction to Estimation
Imp. IS Codes
Structural Work Estimation
Site Cleaning
Earth Work in Excavation
PCC Work
RCC Work in Sub Structure
RCC Work in Super Structure
Brick Work in Sub Structure
Brick Work in Super Structure
Finishing Work Estimation
Plaster Work
Painting & Putty Work
Tiles Work
Stone Works
Ms. Works
Plumbing Work
BOQ Preparation
Bar Bending Schedule (Week 04)
Introduction to Bar Bending Schedule
Bar Bending Schedule Manual
Bar Bending Schedule in Excel & AutoCAD
Bar Bending Schedule of Footing, Column, Beam, Slab, Retaining Walls & Projection
Live Presentation
Quantity Survey (Week 05)
Understanding the role of Quantity surveyor.
Checklist of all kind of Civil Work.
Quantity Take Off
Estimation Technique
Rate Analysis
Material Reconciliation
Billing (Week 06)
Introduction to Billing
Measurement Book
Running Bill
Material Reconciliation
General Contract Condition
BOQ & DSR
Bonus Topic
Interview as per Actual Environment
Portfolio Making
Resume Making
Guidance for Job & Career
Online Course Access For Lifetime
Classroom & Infrastructure:
Fully Air Conditioner Class Room
Classes on Digital Board
Small Batches
Regular Site Visit
Well Experience Trainer
Trainer from Reputed Companies
Hostel Facility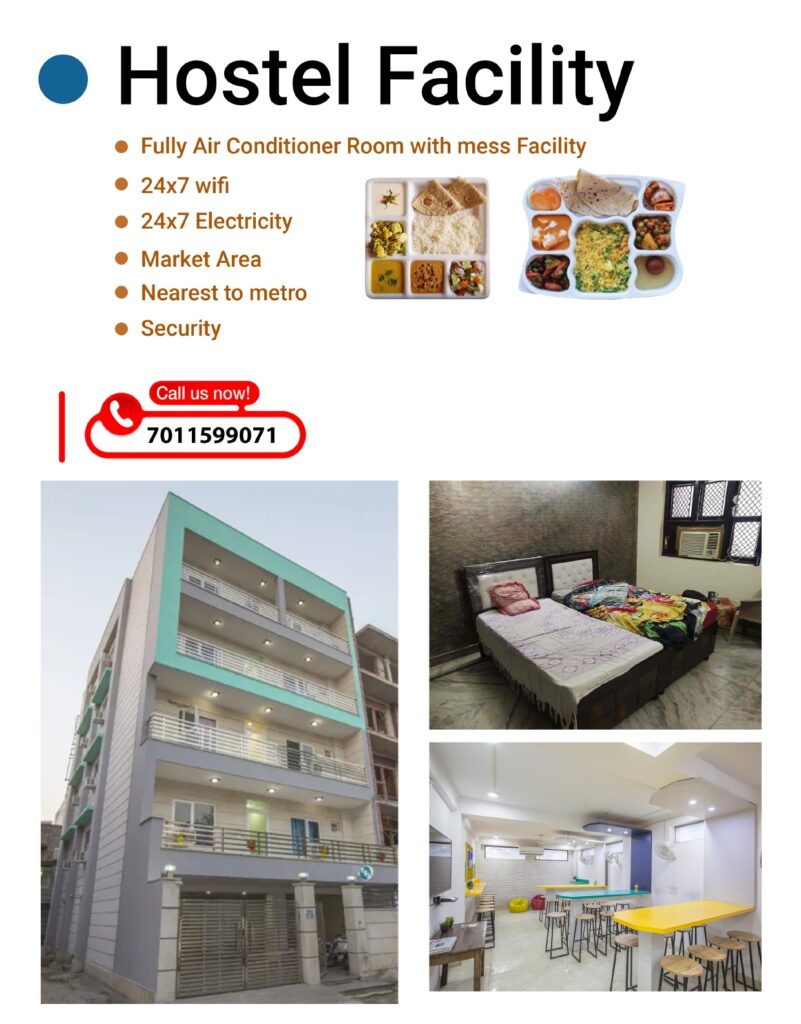 How to Join Offline Training For Civil Engineer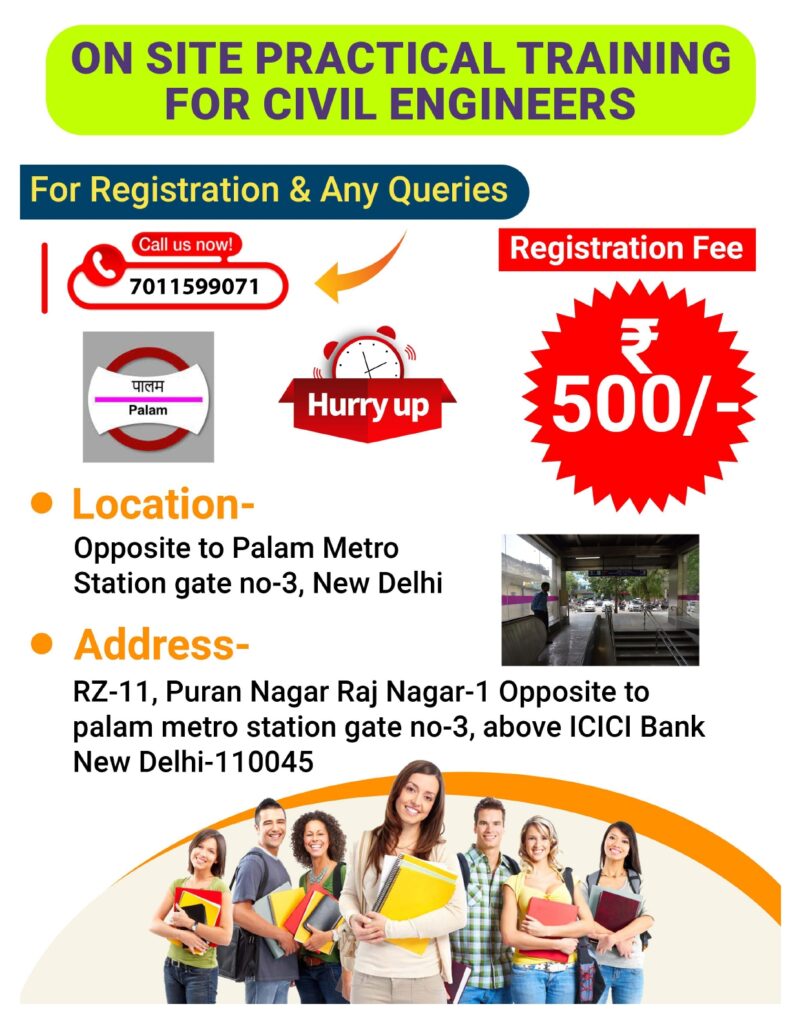 Download Solitude Education Mobile App – Click Here
Watch Demo Lectures – Click Here